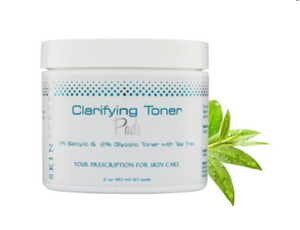 * Free shipping for orders over $50! (mainland USA)
* Please allow 1-4 business days before items ship.
Clarifying Toner Pads use purifying active ingredients to relieve breakouts while improving the clarity and quality of the skin. This clarifying toner assists the cleanser in cellular turnover bringing oil and debris to the surface of the skin; salicylic then dries the uplifted oil.  Tea tree calms and soothes the skin.
Reduces congestion
Lessens oil production
Provides antibacterial-like properties
Soothes cystic breakouts
Enhances cellular turnover
Oily and acneic skin
Ingredients: Hamamelis Virginiana (Witch Hazel) Water, Alcohol Denat. (Ethanol), Polysorbate 20, Glycolic Acid (2%), Salicylic Acid (2%), Aqua (Water), Melaleuca Alternifolia (Tea Tree) Leaf Oil