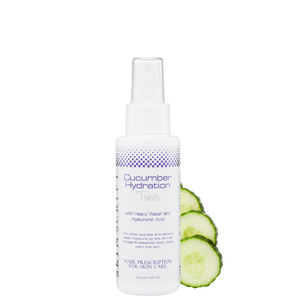 * Free shipping for orders over $50! (Mainland USA)
* Please allow 1-4 business days before items ship.
The Cucumber Hydration Toner rehydrates the skin while improving cellular functions and absorption of ingredients. The cucumber soothes and cools irritated skin. It reduces discomfort and irritations, balances surface lipids and assists in boosting hydration levels.  This toner provides probiotic support to the skin's acid mantle to support acneic skin. Every skin needs a great hydration toner and this one is perfect for everyone.
Reduces discomfort and irritation
Balances surface lipids
Assists in boosting hydration levels
Provides probiotic support to the skin's acid mantle to support acneic skin
All skin types
Dry, dehydrated skin
Ingredients: Hamamelis Virginiana (Witch Hazel) Water, Aqua (Water), Alcohol Denat., Glycerin, Polysorbate 20, Deuterium Oxide (Heavy Water), Sodium PCA, Cucumis Sativus (Cucumber) Fruit Extract, Fructooligosaccharides (D-beta), Glucosamine HCI (D), Honey, Phospholipids, Commiphora Myrrha Oil, Sphingolipids, Hyaluronic Acid, Borago Officinalis Seed Oil, Cucumis Sativus (Cucumber) Oil, Benzyl Alcohol, Phenoxyethanol, Fragrance/Parfum (Natural)