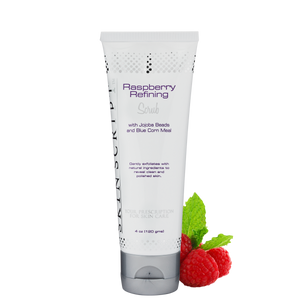 * Free shipping for orders over $50! (Mainland USA)
* Please allow 1-4 business days before items ship.
The Raspberry Refining Scrub polishes and energizes the skin with the antioxidants raspberry and marionberry, which brighten skin and provide anti-inflammatory-like benefits to soothe skin irritations. Jojoba beads and blue corn meal gently exfoliate to remove surface build-up and provide physical exfoliation while exfoliating and brightening ingredients work in tandem to promote a clear, healthy skin tone.
Polishes and refines the skin
Anti-inflammatory-like benefits
Brightens skin discolorations
Safe for pregnant and lactating clients

Ingredients: Rubus Idaeus (Raspberry) Fruit, Aqua (Water), Rubus Fruticosus (Marionberry) Fruit, Jojoba Esters (Beads), Bambusa Arundinacea (Bamboo) Stem Extract, Zea Mays (Blue Corn) Kernel Meal, Butylene Glycol, Gluconic Acid (D), Benzyl Alcohol, Glucamine, Citrus Sinensis (Orange) Fruit Extract, Rubus Idaeus (Raspberry) Fruit Extract, Mirabilis Jalapa Flower/Leaf/Stem Extract, Bisabolol (L-alpha), Rosmarinus Officinalis (Rosemary) Leaf Extract, Helianthus Annuus (Sunflower) Seed Oil, Citrus Paradisi (Pink Grapefruit) Peel Oil, Glycerin, Propanediol, Ethylhexylglycerin, Pectinase, Hydroxyethylcellulose, Phenoxyethanol, Fragrance/Parfum